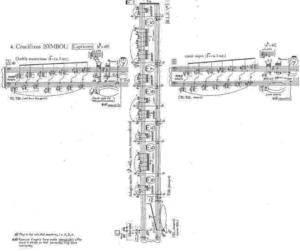 Last week I attended an event that gave me hope for the future of new music concerts.  Held at the Blue Sky Gallery in the Pearl District of Portland, Oregon, this group of musicians played music by George Crumb, John Adams, and Nikolai Kapustin, as well as Oregon composers Kenji Bunch and David Crumb.  Organized (and partially performed) by the piano duo Stephanie and Saar, this was a five-hour event that should have pulled in a sparse crowd.
It was standing room only.  Between two of the concerts I had to fight off three separate people who had designs on my chair.  They ran out of food.  They ran out of wine, forcing several of the assistants to make an emergency wine run to the local market.  As I sat on my carefully defended chair and listened to the performances, I could feel the focused attention of the audience. By the end of the evening when Stephanie and Saar tore their way through Adams' "Hallelujah Junction", the room erupted with the last crashing notes.
It worked.  Kudos to all the players and sponsors who made it happen.  Congratulations to the performers who deciphered their way through difficult scores, most of whom looked as if they were having fun doing it.   Many—myself included–have long pontificated about the disconnect between contemporary music and the listening public.  Last week it was good to be reminded that when community partnerships support a common passion the impossible can sometimes become the possible.